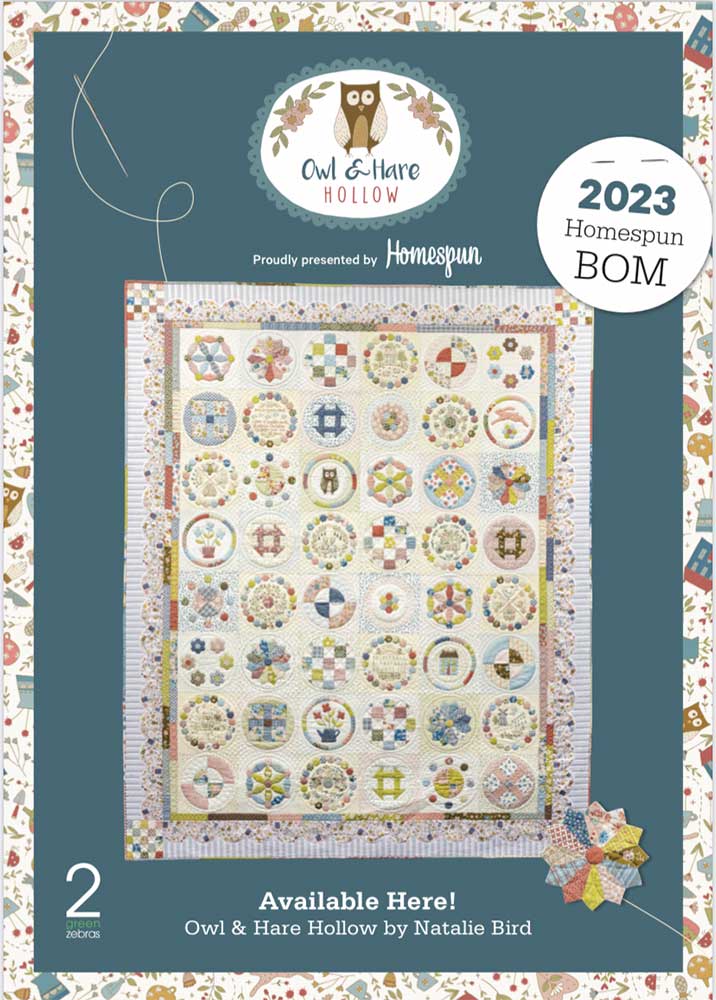 "Owl and Hare Hollow"
Homespun new Block of the Month 2023.
Owl and Hare Hollow.
Full kit available now in our online store for $399.
Designed by Natalie Bird, the kit includes all fabric for the quilt top,
backing, binding and new stitchery panel.
The pattern will be released every second month in
Homespun over six issues beginning in February.
EPP papers, EPP acrylic, template set, Cosmo threads
and the first publication are also available in our online store
Phone Pam and the girls at Picklemouse Corner 02 4784 2854 or 0488 470 684
Picklemouse Corner
1/152 Megalong St
Leura NSW 2780
picklemousecorner.com.au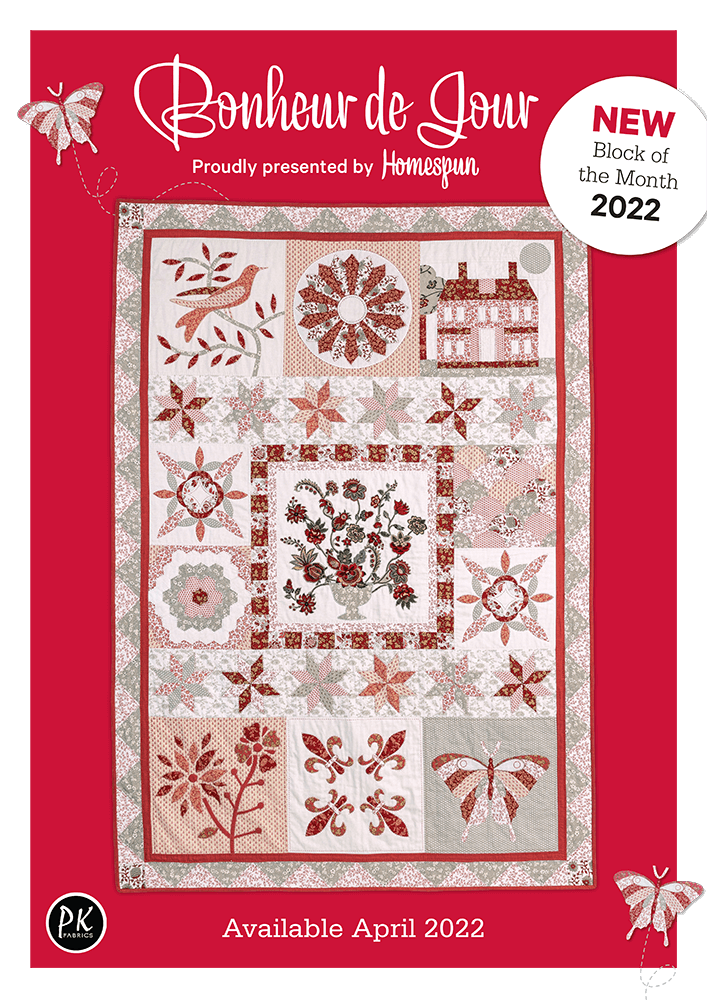 "Bonheur de Jour"
New BOM for 2022 by Kaari Meng presented in Homespun Magazine.
Approximate size 60in x 80in (1.5m x 2m)This is a stunning quilt made using the beautiful new French General range of reds and
neutrals by Moda. It is a mixture of piecing, appliqué, embroidery, fussy cutting and
English paper piecing.
Full materials list is provided in the first issue. (#23.3 April/May)
Full-size pattern sheet is provided in the relevant issues.
Issue 1 – The centre square 24"
Issue 2 – The four 12"x12"
Issue 3 – The rows of stars
Issue 4 – Top row of 16"x16"
Issue 5 – Bottom row of 16"x16"
Issue 6 – Borders and putting it all together
There will be 6 instalments of $65 over 12 months as Homespun is a bimonthly magazine.
Each instalment includes the magazine, fabrics, and postage (within Australia).
$130 secures your program and covers the cost of your first and last issues.
Phone Pam and the girls at Picklemouse Corner 02 4784 2854 or 0488 470 684
Picklemouse Corner
1/152 Megalong St
Leura NSW 2780
picklemousecorner.com.au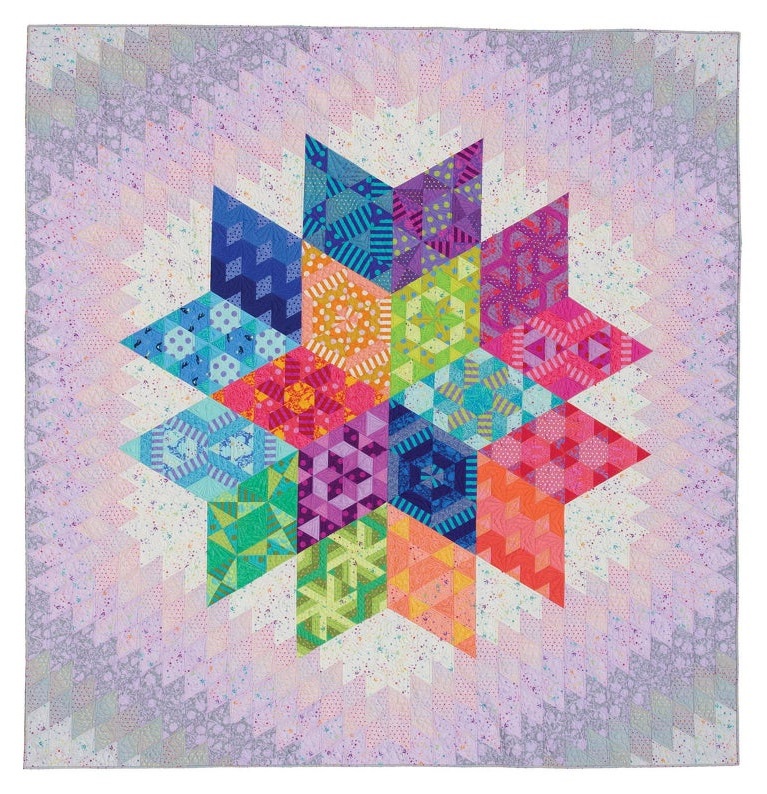 "Nebula"
Our New BOM for 2021
97×96 in (280×275 cm)
A 10 month program – $65 a month From Jaybird quilts and featuring True Colours by Tula Pink
Further information click here
Enquiries now welcome
0488 470 684
Join our Jinny Beyer Club for…Palette Fabrics
150 fabrics designed by Jinny Beyer for a wide variety of traditional and contemporary quilt styles. These are fabulous for all sorts of projects.
You will receive 15 coordinated palette fabrics each month.
Fabric pieces measure approx 10in square.
$32 a month for 10 months
Join our  Jinny Beyer Club for…Batiks
A brand new range of beautiful Jinny Beyer Batiks.
You will receive 8 x fat ⅛'s each month, or buy all 5 packs together with our "Around in Circles" pattern to complete a beautiful quilt.
Fabric packs only
$30 a month for 5 months
 "Around in Circles" Kit $165
Phone Pam and the girls on… 02 4784 2854 or 0488 470 684
Prices above include postage within Australia